Helwig/Otto Arzneimittel
Helwig/Otto Arzneimittel
At the time of their introduction, little is known about the actual benefits of new medicines. Only the widespread use in clinics and practices gives information about their advantages and disadvantages. Helwig/Otto closes this gap.
The database
provides up-to-date information about the entire range of the pharmaceutical market.
names indications, dosages, risks and interactions.
evaluates newly introduced drugs in comparison to standard therapy.
Independent, up-to-date, competent - and therefore indispensable for pharmaceutical professionals.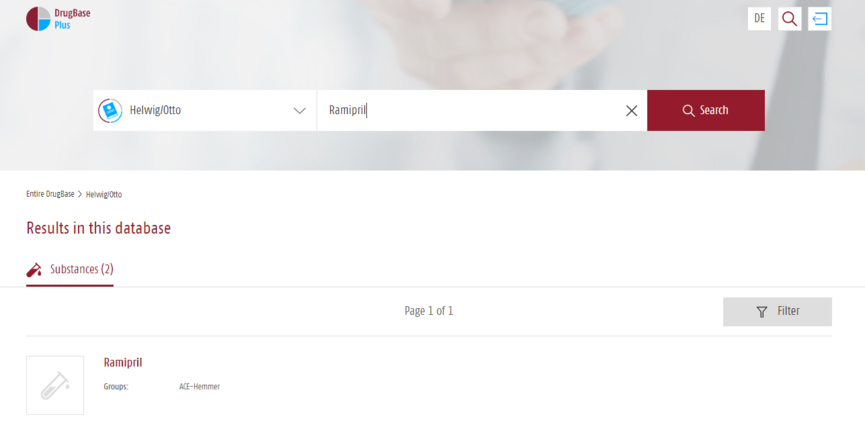 Search entry via active ingredients.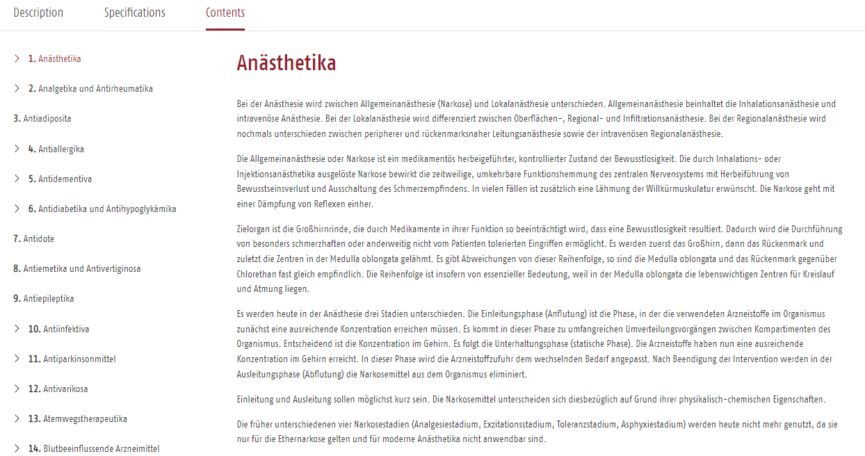 The active ingredients can also be browsed by indication.
Updates
Update 14
Regular updates analogous to the publication of the printed book
Helwig/Otto Arzneimittel
The effects section describes mechanisms of action, with particular emphasis on interactions with receptors, enzymes, transport systems, and ion channels. The data are based on original studies as well as on technical information.
The pharmacokinetics section summarizes data on application, distribution, metabolism, biotransformation, and excretion. In most cases, the data on these are taken from the expert information or from the registration materials of the BfArM and the EMA.
The approved indications are listed as indications. Unproven or questionable indications are not mentioned.
In the sections adverse effects, interactions and contraindications, only the information important for the application is presented. The complete lists can be found in the technical drug information or in the approval documents of the BfArM, the EMA or the FDA. For detailed information on use during pregnancy and lactation, please refer to the Embryotox database https://www.embryotox.de.
With regard to dosing, it is generally true that dose recommendations should always be as simple as possible for practical use. Therefore, mean standard doses for adults are given here. Dosage recommendations for special patient populations such as children, adolescents, and the elderly are also listed when available.
In the commentary section, additional information is provided to help the user assess the place value of a drug. For example, statements by the Institute for Quality Assurance in Health Care (IQWiG) or the Federal Joint Committee (G-BA) are evaluated, or comparisons with other active ingredients of the same indication with regard to effects and side effects from clinical studies are used.
Commercial preparations are mentioned at the end of each monograph. Because of the frequent and rapid changes and changes in pharmaceutical companies or the large number of generics, only a selection can be listed for most drugs.
Do you have any questions?
If you have any questions, please do not hesitate to contact us. The
DrugBase

Plus

team will be happy to help you.
Mondays to Fridays
from 9am to 5pm
We look forward to receiving your questions or messages.
Do you have any questions about
DrugBase
Plus
?